Ready Community
Property & Rates
Your end-to-end digital solution for property lifecycle management.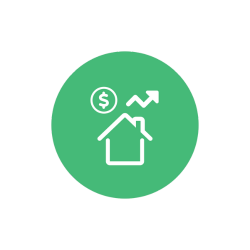 Ready Community Property & Rates is market-leading solution that opens and connects property and rating information throughout the organisation using a customer-centric approach.
Delivering speed, accessibility and enhanced navigation, the solution is built based on best practice, leveraging ReadyTech's deep domain expertise and feedback from our 300+ local government customers.
Designed for local and state governments, this specialised sub-ledger can work independently or with your Finance system as part of your ERP solution. It seamlessly integrates with our Ready Community ERP suite, enabling easy navigation across Property, Finance, Payroll, and CRM modules. Delivered securely via the cloud, it offers a user-friendly interface, customisable to match your existing business processes and terminology, simplifying change management and user adoption.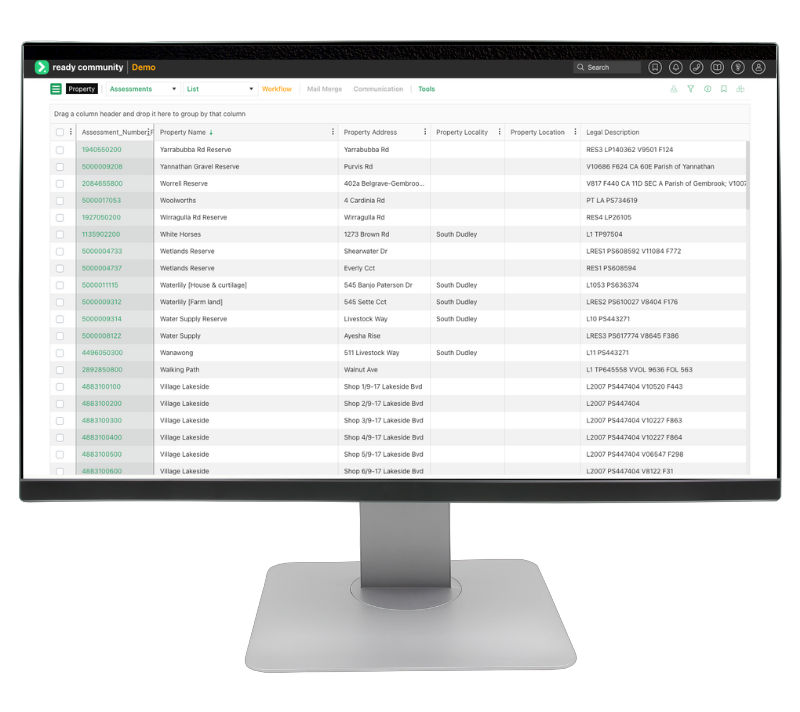 Benefits
Designed for the public sector, Ready Community Property & Rates provides mechanisms to automate and simplify internal processes, and provide real-time management of the property lifecycle.
>
User configurable
Empowering users to adapt the platform to suit their workflows
>
Flexibility and choice
With integration to any finance system, through an open architecture approach
>
Time and cost savings
Automate manual processes and save on resourcing
>
Accessibility
Access a wealth of information from anywhere
>
Enhanced navigation
Multi-tab browser support
>
One platform
Singular source of data for all rates and property information
Powerful billing engine

Taking a decentralised approach to property information, Ready Community Property & Rates delivers a powerful billing engine that is incredibly efficient in processing large property and rating data sets. The solution is fully scalable to suit councils of all sizes, from small to extremely large data sets, without impacting functionality.
Property & Rates is built with enterprise-level functionality but with the user experience top of mind. The product focuses on convenience and value for public sector users, solving often manual and resource-intensive processes through speed and efficiency in raising rates, accessing property information, generating rate notices, and more.
Its fully responsive design means the interface can scale to fit any device, including mobile and tablets, allowing information to remain accessible from anywhere. Ready Community Property & Rates creates an effective workflow with ease of use in navigation and multi-tab browsing allowing users to multitask without having to close windows or repeat processes. Peak usability and intuitive functions deliver a smooth and well organised user experience, modernising a multitude of rates applications.
Built to industry standards, the solution delivers state-based preconfiguration to support all legislative frameworks in every state and territory in Australia, as well as complete integration with state-based valuation systems. It delivers real-time updates to all property information, with public payment and viewing of property information also available via our Customer Experience Portal.
Features
Simple and engaging interface designed for enhanced user experience and navigation
Industry-leading security to safely store data in the cloud
Seamless integration with the full Ready Community ERP suite
Transactional capabilities allowing users the convenience and ability to view and pay rates online
Single Sign On support for a secure and accessible login process
Powerful billing engine, delivering efficient processing of both small and large property and rating data sets
State-based preconfiguration, supporting all legislative frameworks in Australia and integration to state-based valuation systems