Australian Apprenticeships Support Software

Ready Apprentice empowers Australian Apprenticeship Support Network (AASN) providers to achieve mastery over the complete apprenticeship lifecycle.
With over two decades of experience building apprenticeship management software to solve industry-specific problems, Ready Apprentice combines the power of automation and efficiency with the potential of true customer partnership to ensure today's AASN providers thrive in a more modern and mobile age of apprenticeship support.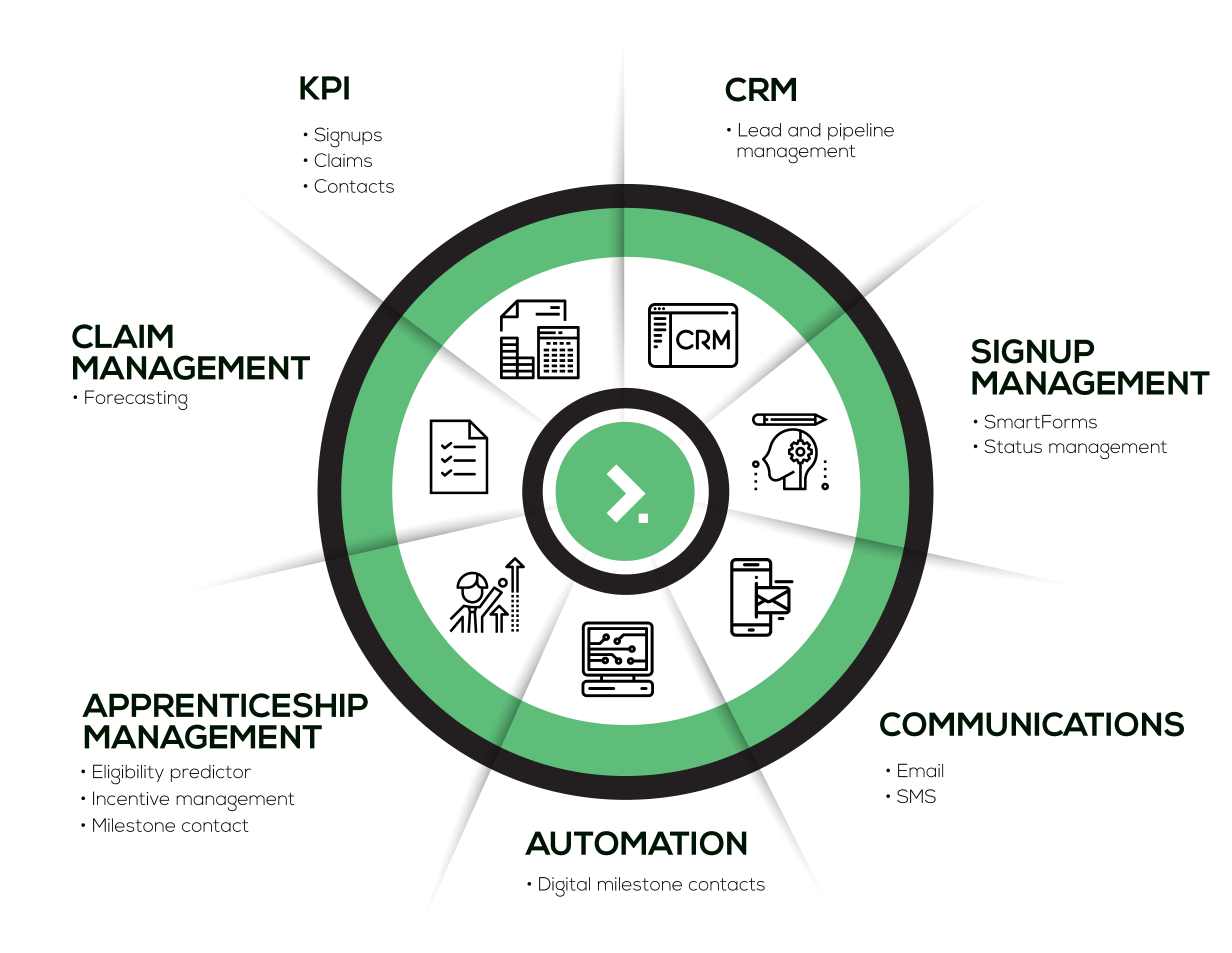 Are you looking to tender for the new AASN contract?
Ready Apprentice is the only real provider for AASN providers. Purpose-built for the apprenticeship industry for 25+ years, with the Right Fit For Risk (TPES) Accreditation.
Don't look anywhere else! Securely manage your data with THE market-leading software!
Dashboards
Use personalised dashboards to help staff visualise and keep task status front-of-mind every day, while encouraging action on urgent activities through reminders and documenting progress.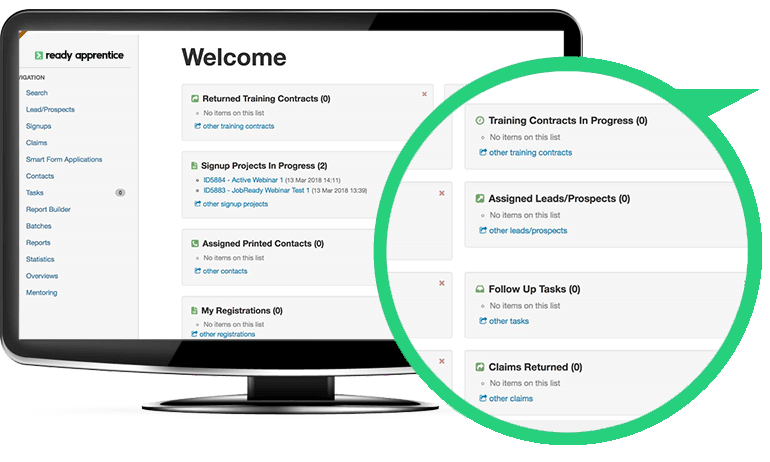 Contacts
Track and manage a full pipeline of apprentice and employer contacts and reminders, while enabling the timely submission of documentation and managing follow-ups through to completion.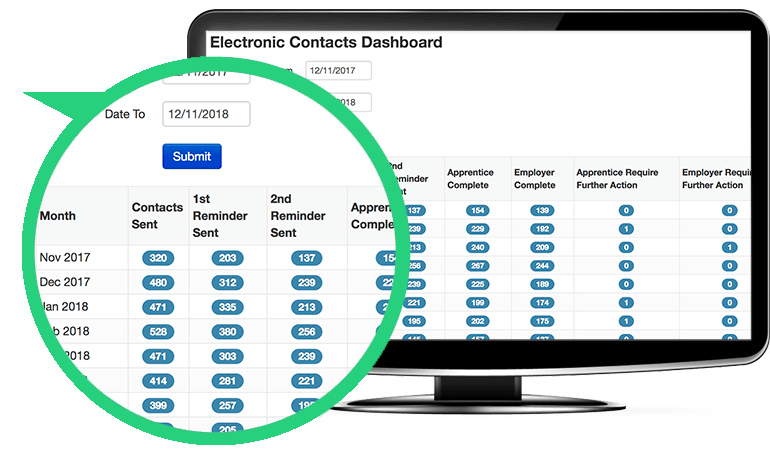 Forms
Consolidate and categorise all of your smart forms in one simple-to-use place and ensure timely submission of accurate data to the relevant authorities with a click of a button.
Leads
Coordinate your field operations with mobile tools that capture sign-ups on the ground in real-time while tracking your sign-up pipeline through revision, registration and approval.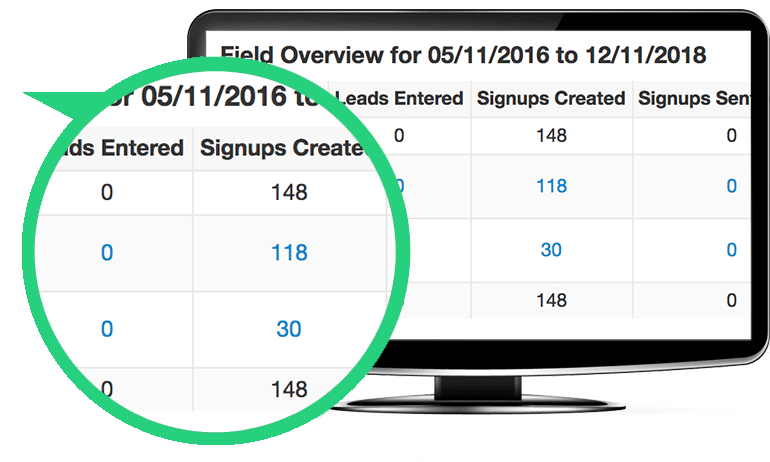 Apprenticeship Management
Manage the full apprenticeship life cycle from eligibility prediction through to incentive management and milestone contacts.

Claims Management
See the future with a powerful forecasting tool that helps you visually manage claims so you can stay on top of the function today and tomorrow.

CRM
Track customers and opportunities with purpose built CRM technology that ensures leads are allocated and continually nurtured.
Centralised Compliance
Make compliance central with tools like electronic training evidence collection, audit reporting and payment predictions.

Market-leading
Trust the system of choice for current AASN providers to manage everything from training contracts and sign-ups to incentives and loan payment processing.

Purpose Built
Leverage the power of technology built to solve industry-specific problems based on twenty years of proven experience in apprenticeship management.

Productivity
Ease the admin burden with a system built for making your operation automated and productive throughout the entire apprenticeship journey.

Engagement
Achieve better engagement using market-leading self- service access for employers, RTOs, and apprentices as well as SMS and email communication.
Some of our existing customers'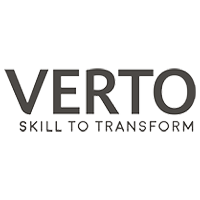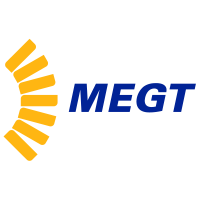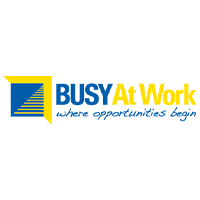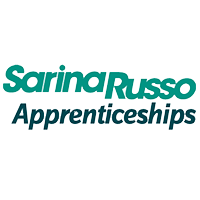 Some of our existing customers'