Voice of VET Report

Australia's premier vocational education and training industry report on the trends and challenges facing RTOs.

Download your copy of the 2022 report below!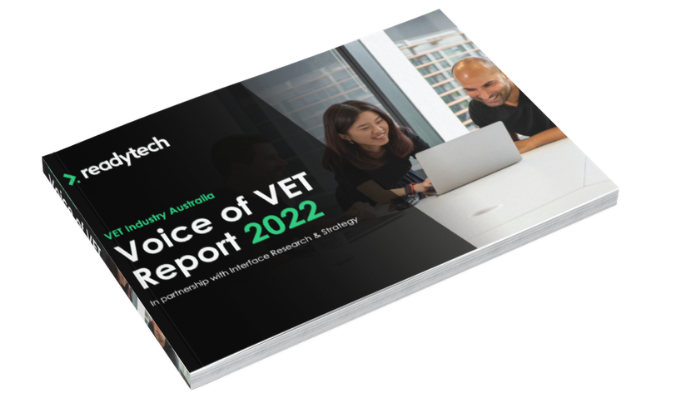 The latest trends and challenges facing RTOs in Australia

Voice of VET is Australia's leading survey of Registered Training Organisations (RTOs). Uncovering intelligence across a series of vital RTO business indicators, as well as the challenges and opportunities facing RTO businesses and their opinions of major industry developments, Voice of VET maps the state of the market to help RTOs prepare for the future.
As the leading provider of student management technology to private VET providers in Australia, ReadyTech aims to support VET's continued role as a critical channel for skilling our future workforce.
Voice of VET 2022 Report

How are RTOs viewing the market as they emerge from the Covid-19 pandemic in 2022? How important will blended learning be to their future, and where are they seeing course demand increase or decrease? Find out the answers to these questions and more in the new Voice of VET RTO Industry Report 2022.

56% of RTOs expect their business revenue to be up in 12 months.

69% of RTOs agree that digital transformation is a high priority for them.

62% of RTOs say enrolments will be the key driver of their resurgence from Covid-19.
About the Researchers
Interface Research & Strategy was established in 1998 with the mission of helping its clients, through better research and better strategy, to do better business.
Since their inception, Interface has consulted to 127 major clients across business categories including Accounting, Automotive, Education, Fast Food, Financial Services, Health & Pharma, IT & Digital, Not For Profit, Publishing, Retail, Telecommunications, and Travel & Tourism.
For more information, please see: www.interfaceresearch.com.au.

Want to revisit the previous Voice of VET Reports?