IT Vision turns 30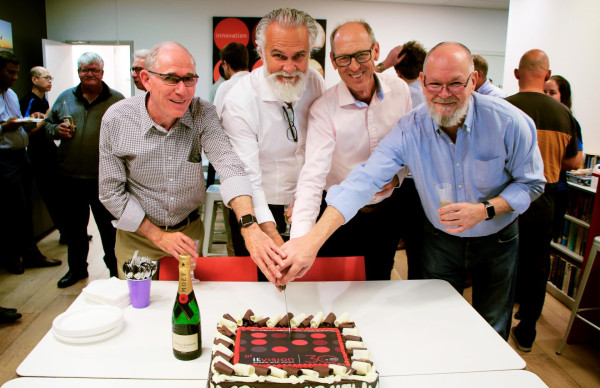 IT Vision founders Earl Ward (left) and Alan Smith (middle right) cut the celebration cake with IT Vision's earliest employees Sabastian Sapio (middle left) and John Steer (right).
This month, IT Vision celebrates its 30th Anniversary! To mark the occasion, the business launched a 30-year anniversary brand and celebrated internally by sharing the story with staff, cutting a stylised anniversary cake and popping some champagne. Chief Executive Officer, Nigel Lutton took the opportunity to reflect on what the milestone means to the business and its clients.
"The arrival of our 30 year anniversary is an exciting time in IT Vision's history. It gives us the opportunity to look back at everything that has brought IT Vision to this point, to celebrate the journey so far, and to visualise what the future will bring."
"When it comes to considering the next 30 years in front of us, and the pathway we will create for our customers, understanding our history feeds our future vision." said Mr Lutton.
A brief step through the last 30 years
IT Vision commenced life in 1991 under the guise of Vision Computer Systems which was founded by Alan Smith and Earl Ward. The company sold network servers and PC's and set about establishing a client base. In 1995, following an amalgamation with Infotech, Vision Computer Systems became IT Vision. By 1999, the company had around 100 Local Government Authorities using IT Vision software just as the Y2K scaremongers heralded the end of the tech world.
The company successfully dealt with Y2K issues and moved forward with the development of SynergySoft, a Windows based application which went live in 2001. By 2004, the business moved to the current Ogilvie Road offices. In 2006, IT Vision was admitted to the WALGA preferred supplier panel and in 2014 the Altus platform came to life. By 2017, the IT Vision brand had a presence in most Australian states.
The events related to the COVID-19 pandemic in 2020 saw IT Vision self-assess as most companies around the world were forced to. However, with 2021 looking strong and 200 customers across Australia, IT Vision is committed to continuing growth and enhanced services to its clients. With current CEO, Nigel Lutton and a team of 80 staff the next 30 years are an exciting prospect.
Celebrations
The new 30 year anniversary brand was launched on 1 April 2021 - see it come to life here. It will continue to be rolled out throughout the year and applied to all IT Vision communications. A more formal celebration was held later in the month which allowed staff to hear about company milestones and plans for the way forward.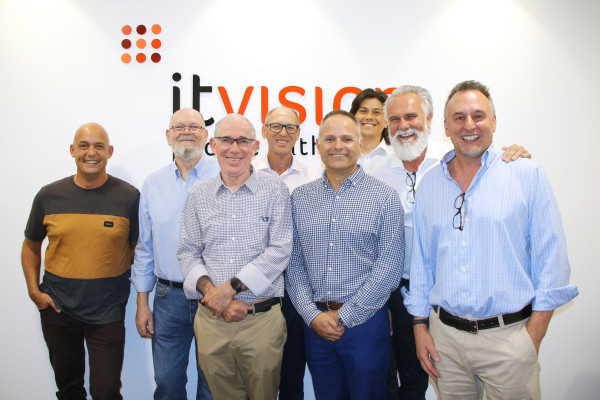 IT Vision Board Members came together to celebrate the business's 30th birthday.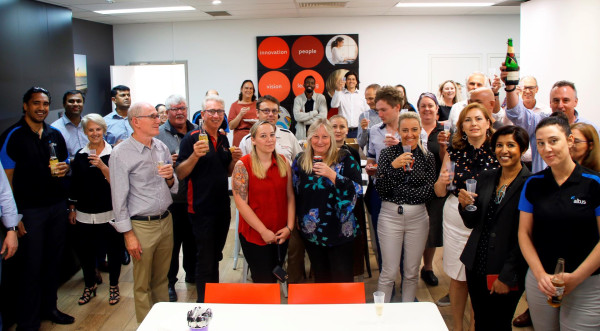 IT Vision staff celebrate 30 years of vision