A new era in source-to-contract

Contracts 9 Webinar
Our latest release of our sourcing & contracts platform, Contracts Version 9 is a game-changer and in this webinar, we would like to show you exactly why. Please join Teresa Nagle, Open Windows Director, Strategy & Alliances for a brief showcase of the sourcing & contracts platform. Register below and learn more about Open Windows (part of ReadyTech), and how it can provide:


• Enhanced Governance and Risk Management
• Improved Organisational Compliance
• Strengthened Relationships and Collaboration
• Better Financial Management and User Experience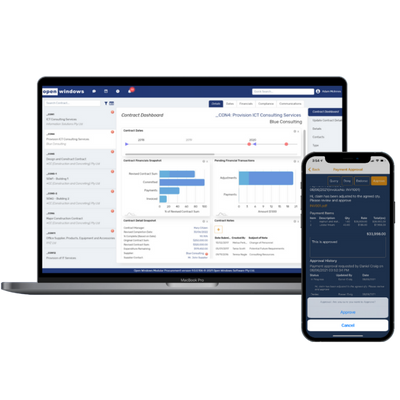 Open Windows (part of ReadyTech) has been a leading provider of contract management software for over 30 years. Everything you need to manage your sourcing and contract lifecycle activities is situated within our secure cloud-based platform, designed specifically to meet the contract management needs of your busy organisation and your suppliers.

Our leading edge, award-winning procurement and contract management software solution is helping our clients develop and manage critical supply lines, complex tenders, large scale contracts and major projects worth billions of dollars.

Open Windows is proud to be part of ReadyTech, a leading provider of mission-critical SaaS for the education, workflow management, government and justice sectors. To learn more about Open Windows software, visit www.openwindows.com.au.
"We chose Open Windows not only for the complete solution approach, but also for their willingness to customise the product in accordance with the department's business needs and the ability to integrate with our finance and document management software.''