Tasmanian Government supports ReadyTech to expand local Centre of Excellence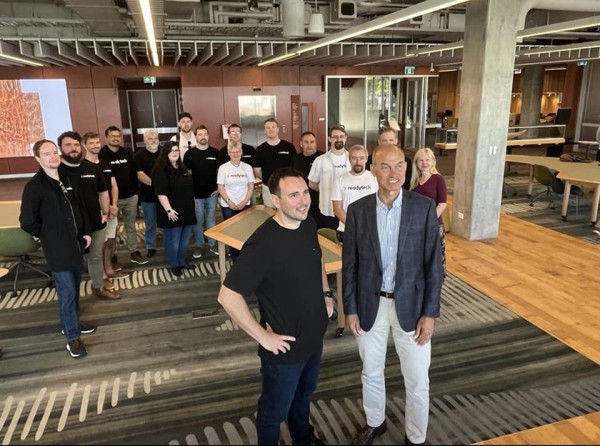 The Tasmanian Government has announced that it will support ReadyTech's Centre of Excellence in Tasmania, enabling the growth of a modern technology hub in downtown Launceston.
ReadyTech (ASX:RDY), an ASX-listed provider of market-leading SaaS technology, will expand its presence and capabilities in Tasmania after signing an agreement with the Tasmanian Government designed to support the local technology industry and skills growth.
ReadyTech has had a presence in Tasmania for over 20 years, and has been growing its footprint and capabilities as part of a plan to increase the number of technology roles in Launceston. It now has 45 technology industry employees located in Launceston and over 60 local customers, with plans to double the size of the workforce in the next 12 months.
The Centre of Excellence will see ReadyTech invest in growing a hub of local software engineering, data science, product management and customer capabilities to support its global growth, while incubating a pool of local technology industry talent.
Chief Executive, Education and Work Pathways, James Diamond, said "ReadyTech's Tasmanian technology team will help to support our mission to build world-class technology products for businesses in both Australia and around the world."
"Our history in Tasmania began over 20 years ago with the development of software for the education and training market, and we now deliver market-leading products across Education & Work Pathways, Workforce Solutions and Government & Justice." James said.
"Investment in our Tasmanian team is an acknowledgement of Tasmania's technology talent and potential. We look forward to seeing local technology talent contribute to the success of our customers as well as the future growth of Tasmania's local tech industry." James said.
ReadyTech plays an active role in supporting the skilling of Tasmania's workforce through its software products and ongoing commitment to the local vocational education and training (VET) sector, including through sponsorship of the annual Tasmanian Training Awards.
It also seeks to provide opportunities to industry graduates, and expects to continue evolving existing relationships with Tasmanian education and training providers to provide more local graduate employment opportunities in the fast-growing technology sector.
Commenting on the commitment from the Tasmanian Government, Minister for State Development, Construction and Housing Guy Barnett said "The Tasmanian Government will assist ReadyTech's Centre of Excellence expansion with location establishment support, employee relocation and recruitment help and staff training and development incentives."
"This support has ensured Launceston is the home of the expansion and will enable new high-quality and high-paying jobs and local investment in growing industries in Tasmania." Minister Barnett said.
For further information or an interview with James Diamond, Chief Executive for Education & Work Pathways, please contact natalie.miller@readytech.io.
– ENDS –
For more information, please contact:
Natalie Miller
Head of Marketing, CX & Corporate Communications
p. +61 422 436 787
e. natalie.miller@readytech.io
About ReadyTech
ReadyTech is a leading provider of mission-critical SaaS for the education, workforce management, government and justice sectors. Bringing together the best in people management systems from students and apprentices to payroll, employment services, and community engagement, ReadyTech creates awesome technology that helps their customers navigate complexity, while also delivering meaningful outcomes. To learn more about ReadyTech's people-centric approach to technology, please visit readytech.io.