Shire of Gingin prepares for Altus Financial Suite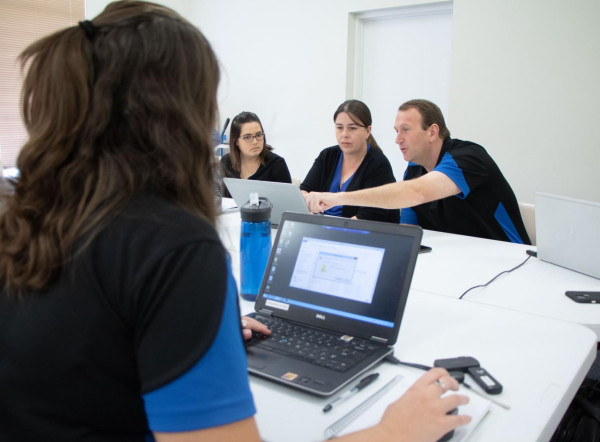 Mark Burbridge and working closely with the Shire of Gingin team.
As an early adopter, the Shire of Gingin has provided continuous feedback on the Altus Financial Suite as it is developed by the IT Vision project team.
"The advantage of being an early adopter is we get a say in what the end product looks like."
"We get to talk to IT Vision about our specific requirements, then as they build the product they respond to those requirements," said Les Crichton, Executive Manager Corporate & Community Services at the Shire of Gingin.
"The level of engagement by both the Shire and IT Vision in working towards a shared commitment – to build a solution and build it right - has been fantastic," said Mr Crichton.
Throughout the project, the IT Vision team regularly travelled to the Shire of Gingin to work with staff members one-on-one, observe their interaction with the platform and run through scenarios specific to the Shire's finance team. This valuable feedback process informed the design and functionality of the Altus Financial Suite, to ensure that the final product ticks all the boxes for the Shire of Gingin and similar local government institutions.
"Our working relationship with IT Vision has always been a very positive one and has been positive for decades now."
"At the end of the day, the decision to progress from where we were to the Altus Financial Suite is based on trust," said Aaron Cook, CEO at the Shire of Gingin.
"The interaction between IT Vision and Shire staff is excellent. There are challenges put up at every meeting, but they come together to work through it which is the pleasing thing to see," said Mr Cook.
Altus Financial Suite is IT Vision's most significant Altus product to date, offering a portfolio of financial tools that enables the efficient management of local government finances.
"Altus Financials is our cloud-based business management system that we have been building over the last few years really targeted at government organisations," said Mark Burbridge, Product Owner of the Altus Financial Suite.
"It takes a lot of older processes that might be paper-based or manual and it systemises those into a product that is accessible from anywhere, anytime."