ASX-listed ReadyTech expands payroll and workforce management offering through the acquisition of Zambion and WageLink.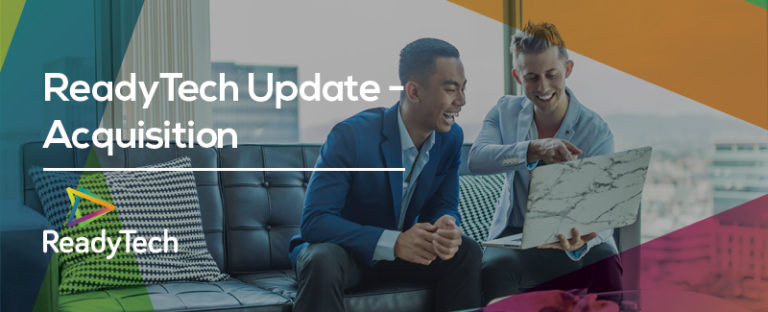 ReadyTech has acquired two businesses that will extend its payroll and workforce management software capabilities, including advanced time and attendance and rostering capability;

The acquisitions will enable ReadyTech to enhance its employer customer value proposition, adapt to changing customer preferences and add to its client portfolio.
ReadyTech (ASX:RDY), a leading provider of people management software for employment and education, has announced the expansion of its payroll and workforce management offering for employers with the addition of two businesses, Zambion and Wagelink.
Already home to two of Australia's leading payroll and HR administration providers, HR3 and Aussiepay, ReadyTech has acquired workforce management software provider, Zambion and payroll service provider, WageLink.
The acquisition of Zambion's modern and mobile cloud software, including advanced time and attendance and rostering capability and support for both Australia and New Zealand customers, as well as WageLink's client base, largely focused in South Australia, positions ReadyTech as a leading trans-Tasman workforce management partner for employers.
ReadyTech CEO Marc Washbourne said the addition of two complementary technology and service providers would allow ReadyTech to enhance the support it provides employers.
"With the addition of Zambion and WageLink, we are welcoming payroll and workforce management technology and services that expand our capabilities and strengthen our competitive advantage," Washbourne said.
"With their focus on customer service and a loyal client base built by committed and talented people, the addition of Zambion and WageLink's offerings into our available software and service suite will ensure employers have a partner that is getting them ready for the future of work."
Zambion, based in New Zealand, has been providing workforce management technology for over 10 years. With a modern, web and app-based technology platform, Zambion will offer new and innovative capability to ReadyTech's clients.
WageLink is an Adelaide-based managed payroll services provider that supports employers outsourcing their payroll function. Acquiring WageLink allows ReadyTech to expand the reach of its existing premium outsourced service Aussiepay.
ReadyTech Chief Executive, Employment, Daniel Wyner, said employers were increasingly seeking technology partners who could provide a broader range of services that took the complexity out of managing their employees.
"At ReadyTech we have a comprehensive suite of payroll and workforce management solutions that can meet employers where they are on their growth trajectory and give them a choice of either managing their payroll in-house or outsourcing it to a trusted provider."
"With the future of work demanding employers get smarter about managing the employee lifecycle, ReadyTech is able to give them the tools they need to be more modern, mobile and efficient while backing it with a team of people dedicated to customer service."
About ReadyTech
ReadyTech is the leading provider of SaaS technology managing the complex human journey through study, work and career transitions. ReadyTech provides people management software to over 3,600 educators, employers and facilitators of work transitions. Bringing together the best in student management, apprenticeship management, payroll and HR admin, employment services and behavioural science technology, we support the development and success of tomorrow's workforce.
For further information contact