Data & Behavioural Insights
Plugging into data power could make TAFE's future even brighter
The data power available to TAFE and vocational providers in the future will be close to incredible.
We know this at ReadyTech because we're swimming in it. As one of the largest cloud technology providers across our vocational education system in Australia, including the TAFE, private RTO and apprenticeships markets, our purpose-built Student Management Systems are channelers and synthesisers of oceans of data.
(In just one relevant example, every apprentice in Australia is currently generating data in one of our systems for VET - Ready Apprentice – which is the primary management and service technology platform for Australian Apprenticeship Support Network (AASN) network providers, with which every apprentice must interact.)
The VET Data Streamlining Program will be a quantum leap forward in bringing the power of this data online. Promising to change data collection processes to enable system-to-system exchange in near real-time, it will free up much more data for use faster by TAFEs and VET providers across Australia.
This will make the collection and intelligent use of data central to our education system's future.
The data revolution creates questions for TAFE institutions, even those who are already using data to their advantage. As we all know, collecting and processing more data is one thing, but creating value from it is another. Will TAFEs be able to use the data explosion to deliver vocational education better than ever?
We think they can.
Understanding our apprentices
ReadyTech is playing a significant role in the VET Data Streamlining Program. With our large sector footprint (such as providing the ACT Government with the management platform for the state's apprentice program, and servicing 1200+ RTOs Australia-wide), we have a role first because of the sheer quantum of data we are responsible for.
However, we also play a role because of the value our unique perspective can have on the future.
Take Australia's apprentice market, for example. Recently, ReadyTech has been engaged in a landmark apprentice completion data project. Using 20,000 apprenticeship data sets, we've worked together with our partners to create innovative risk profiles of apprentices based on a range of factors that influence completion outcomes.
Bringing data science together with behavioural science, information like apprentice demographics and attitudinal factors have been combined to create a data analytics tool that (at this time), has a predictive accuracy of 85%. Now, we are getting closer to knowing with some certainty if an apprentice is likely to complete or not.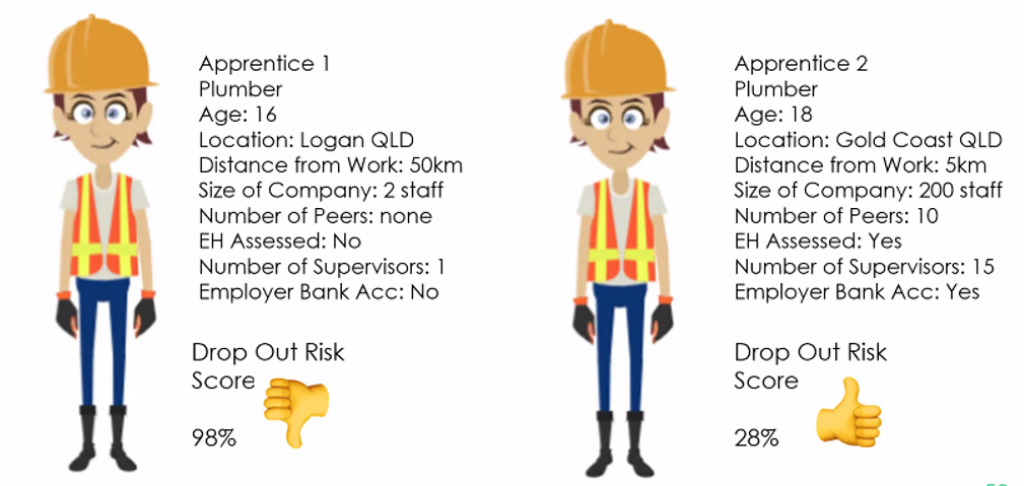 This 'plug and play' dynamic machine learning solution, combined with apprentice candidate attitudinal diagnostic tools like Esher House, have the capacity to generate a lot of value for TAFE providers. Together, they can create a fuller picture of potential or current students and more answers when it comes to targeting support.
For example, TAFEs will be able to better identify at-risk individuals earlier, provide triaged support for these cohorts or move to mitigate some of the more influential risk factors. For example, an analysis of unstructured mentoring notes data has revealed that targeted mentoring can be more effective at turning candidates around.
Putting data to work for you
That's just one example of data put to work to support TAFEs with better insight into the future.
And it is putting data to work that is the key idea here. Because once you are asking data the right questions (using an algorithm), the data will oblige by giving you the answers you need - and you don't have to go looking for them all the time. If we ask the right questions, create the right queries, the data will be presented to you by tech.
The world we're working towards is one where data does work on your behalf.
The apprentice data project outlined above is a great example. When you've done the front-end work of building out the complex algorithms required to identify how at risk an apprentice may be, a real-time risk profile can be presented to front-end users of a technology system right in their flow of work. It's not a world where a user is waiting on reports to tell them things that have already happened - it is presented right there in front of users.
Living up to a new data standard
Australia is blessed to have high quality and consistent data standards underpinning our tertiary education system. This is an amazing asset for which we should be congratulating ourselves. It means organisations like ReadyTech or NCVER are able to access client or sector data going back historically over a decade. Our consistent data models mean we can now do amazing things with that data to help students, which is a major opportunity for VET.
The challenge for individual TAFEs is remaining on the front-foot with data. In a world where NCVER will be creating insights from data faster than ever, will TAFEs be getting the answers they need? While the future insights like macro trends will be valuable, each TAFE is different. To maintain individual character and competitiveness, each institution will need to ask their own questions, and gain answers that will pave their own individual path into the future.
The good news is, data makes that possible.
Interested in learning more about how we help TAFE providers with next generation enterprise student management technology? Learn more here.
You may also be interested in